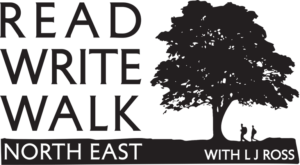 Competitions and Fun
The Bad Taste Tie Award
In honour of one of LJ Ross' most beloved characters, DS Phillips, there'll be a monthly prize on offer to the person or group with the best 'Bad Taste' tie! To enter, all you need to do is post a picture of yourself or your friends with the tie(s) in question via one of the links below with the hashtags:
#badtastetie
#ReadRyan
#WalkWithRyan and
#RWWNE
(It's important to include those hashtags so we can find your entries online!)
Northern Photography Prize
The Northern Photography Prize is comprised of two awards for amateur photography: the Spirit of the North East, a landscape prize worth £1000, and the Heart of the North East, a portrait prize worth £1000. The awards will be judged by LJ Ross, the award-winning photographer David Taylor, and Janet Blair, editor of Living North magazine. Shortlisted entries will be featured in the magazine and the winner will receive a full, double-page spread. All the shortlisted entries will be exhibited at a gallery in the North East, so their work can be celebrated. For more information about how to enter, click the link below.
How to enter
Share a Smile
Share a Smile is an exercise in positivity, as well as a prize draw! Every week for a year, a different person will 'host' the campaign on their Instagram and other social media accounts and choose one lucky winner to receive a full, signed set of my books plus some other local goodies. All you need to do is take a selfie of your best smile and share it with them, and at the end of that week they'll choose a winner! To find out the dates for each entry, click the link below.
Coming Soon
Back to Philanthropy
Subscribe for the latest
book updates